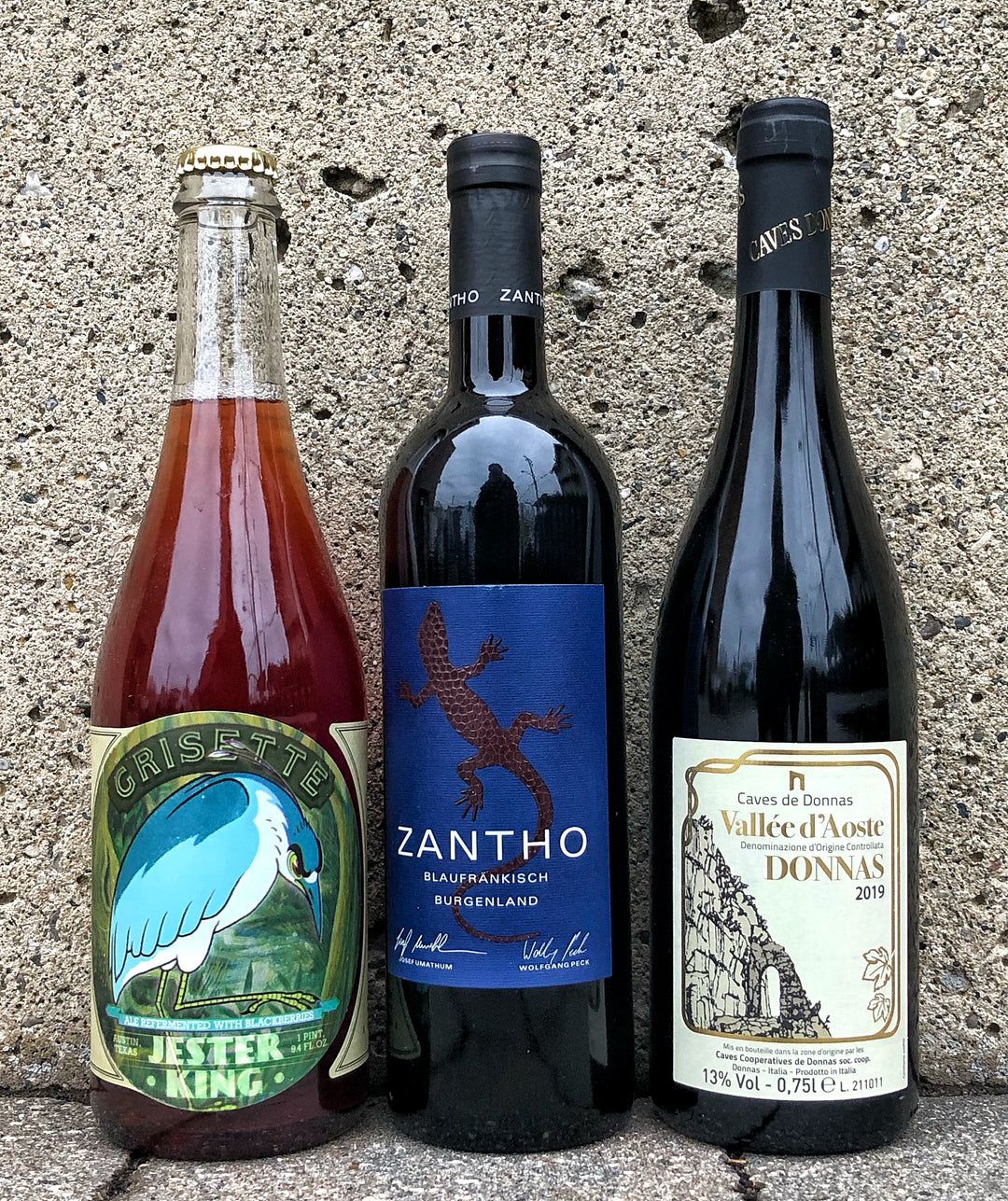 Alyssa's Thanksgiving 3-Pack
---
 If your family is anything like mine, when you arrive at your destination, no matter who is hosting, there is typically at least a 3 - 5 hour waiting period before the big meal. Personally, I cherish this time. It's an excellent opportunity to eat lots of snacks, enjoy a little football, and round up a few cousins for a game of cards (euchre anyone?). While the cards are being shuffled, grab a few glasses and a bottle of Jester King Blackberry Grisette. Jester King is a brewery based in Austin, TX well known for their impressive farmhouse program. Their Blackberry Grisette is crisp and tart with a wonderful texture, an excellent beverage to kick of festivities!
While the Turkey is resting, go ahead and open Cave de Donnas Classico Rosso Picotendro (Nebbiolo) 2019, this northern Italian gem could use about a half hour of air, and should be ready to drink by the time the table is set. Pour this wine for yourself and anyone you want to impress. It's gorgeous garnet hue, vibrant red fruit, earthy minerality, and silky tannins make this wine a real treasure. As a medium bodied and versatile wine it will pair beautifully with everything from the bird itself to the green bean casserole on the side.
 Lastly, for the grown-up kids table a bottle of Zantho Blaufrankisch 2021. A delicious and easy drinking red that doesn't need air! It's tart dark cherry fruit, and earthy spice will be appreciated by even the most unrefined palate. 
Do you offer home delivery?
Yes! If the address of the order is within a six mile radius of our store, we offer same day delivery Monday through Saturday for orders placed by 12pm.  Any orders placed after 12pm will be delivered the following day with the exception of Saturday afternoon orders which are delivered on Monday. 
We charge a $5 fee for orders that are within our delivery area and that meet a min $50 order before sales tax.  If your order is under $50 before sales tax, our delivery fee is $10. 

If you are outside of our delivery area but live in Michigan, please contact us as we may be able to deliver or ship for an extra charge.
Will you deliver to a business? 

We do deliver to businesses but we reserve the right to request a home address if necessary.
When can I pick-up my order?
Orders are typically packed within 30 minutes of when we receive them. Once you receive a text or email (check your spam box!) letting you know your order is ready, you may come and pick it up.  If you place an order within 30 minutes of our closing time and would like to pick-up before we close, please let us know via phone (734) 827-9463 or text 734-489-9444‬ and we will be sure to have it ready. Our store hours for pick-up are 9a-7p Monday through Friday, 8a-6p Saturday, and 12p-5p Sunday.
If I buy a case, is there a discount?
If your total before tax is $120 or more, you will be given an automatic 10% discount at checkout.  If you're ordering several cases, contact us and we can work out a way to give you a bigger discount.

How do I redeem an old everyday wines gift card?
If you received a gift card before December 2020, please 
email us
 and we can reissue you a gift card that you can use online or at the store.  If you received a gift card after December 1, 2020, you should have a code that you can use to redeem online or in the store.

Is it possible to send a physical gift card to my gift card recipient?
Yes! Call (
734-827-9463
), text (
734-489-9444
) or
email us
and provide the recipient's mailing address, any gift note you would like to include, and the electronic gift card code that was emailed or texted to you at the time of the purchase. 

What is your return and refund policy?
The State of Michigan does not allow us to take back unopened bottles of alcohol for credit or refund after purchase.  If an open bottle of wine is off or spoiled for some reason, please bring the bottle back (please don't pour out the wine!) and we can provide you with a refund or replace the bottle.