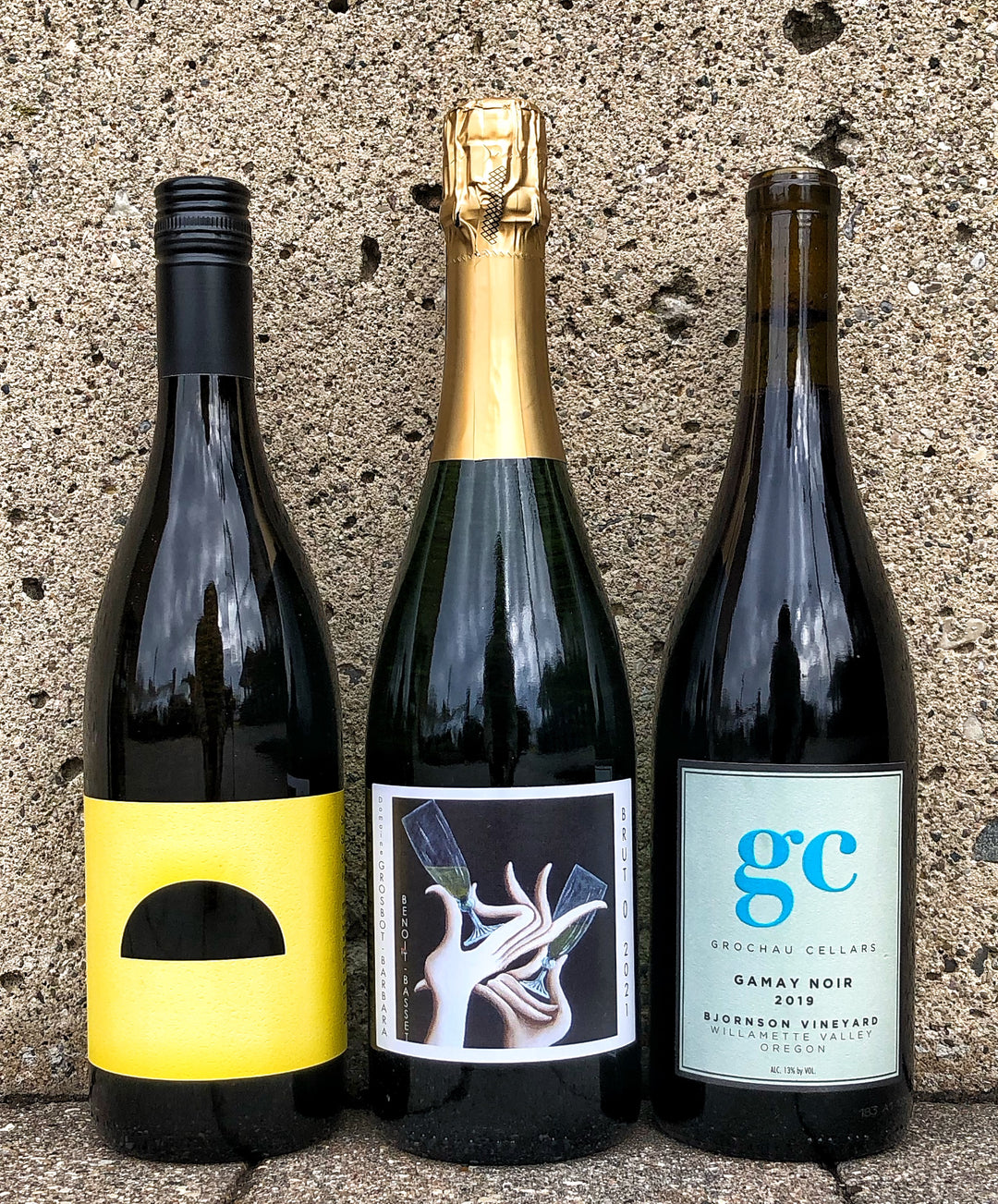 Mary's Thanksgiving 3-Pack
---
Thanksgiving is my favorite holiday.  I often bring the wine (funny how that happens) and I like to choose wines that will fit many palates but are still a treat for me.
I always, always start with a bubbly.  Then I alternate red and white wine with dinner.  Love to start out with the red and end on a glass of white when I'm starting to feel full.

Without further ado...
Domaine Grosbot Barbara Brut 0 2021 (Loire Valley, France) 
This is an incredible bone dry (Brut Zero) Champagne method sparkling wine made from Gamay.  The fruit is harvested early from a single parcel of vines and the grapes are gently pressed to obtain a Blanc de Noir. The result is a delicious vintage sparkling wine with lots of small tiny bubbles, a tart berry note, minerality, and an elegant texture. I'm drinking mine before dinner with oysters from Monahan's and smoked salmon from Durham's Tracklements, but it will be delicious with a variety of Thanksgiving snacks or the meal itself.

Grochau Cellars Gamay Noir Bjornson Vineyard 2019 (Willamette Valley, Oregon)
This Single-Vineyard Gamay comes from Björnson Vineyard in the heart of the Eola-Amity Hills AVA, one of several family-owned and sustainabl farmed single vineyards that winemaker John Grochau sources fruit from. Think Cru Beaujolais with an American twist --this Gamay has wonderful dark red berry fruit combined with savory-earthy notes,    juicy acidity, and a smooth long finish. And, as an added bonus, this Oregon Ducks red (just seeing if you're still reading this) is farmed organically.  Go Ducks!

Subbing Gaba do Xil 'O Barreiro' Branco Valdeorras 2022 (Galicia, Spain) for
Voštinić Klasnić Škrlet 2022 (Moslavina, Croatia)


Do you offer home delivery?
Yes! If the address of the order is within a six mile radius of our store, we offer same day delivery Monday through Saturday for orders placed by 12pm.  Any orders placed after 12pm will be delivered the following day with the exception of Saturday afternoon orders which are delivered on Monday. 
We charge a $5 fee for orders that are within our delivery area and that meet a min $50 order before sales tax.  If your order is under $50 before sales tax, our delivery fee is $10. 

If you are outside of our delivery area but live in Michigan, please contact us as we may be able to deliver or ship for an extra charge.
Will you deliver to a business? 

We do deliver to businesses but we reserve the right to request a home address if necessary.
When can I pick-up my order?
Orders are typically packed within 30 minutes of when we receive them. Once you receive a text or email (check your spam box!) letting you know your order is ready, you may come and pick it up.  If you place an order within 30 minutes of our closing time and would like to pick-up before we close, please let us know via phone (734) 827-9463 or text 734-489-9444‬ and we will be sure to have it ready. Our store hours for pick-up are 9a-7p Monday through Friday, 8a-6p Saturday, and 12p-5p Sunday.
If I buy a case, is there a discount?
If your total before tax is $120 or more, you will be given an automatic 10% discount at checkout.  If you're ordering several cases, contact us and we can work out a way to give you a bigger discount.

How do I redeem an old everyday wines gift card?
If you received a gift card before December 2020, please 
email us
 and we can reissue you a gift card that you can use online or at the store.  If you received a gift card after December 1, 2020, you should have a code that you can use to redeem online or in the store.

Is it possible to send a physical gift card to my gift card recipient?
Yes! Call (
734-827-9463
), text (
734-489-9444
) or
email us
and provide the recipient's mailing address, any gift note you would like to include, and the electronic gift card code that was emailed or texted to you at the time of the purchase. 

What is your return and refund policy?
The State of Michigan does not allow us to take back unopened bottles of alcohol for credit or refund after purchase.  If an open bottle of wine is off or spoiled for some reason, please bring the bottle back (please don't pour out the wine!) and we can provide you with a refund or replace the bottle.