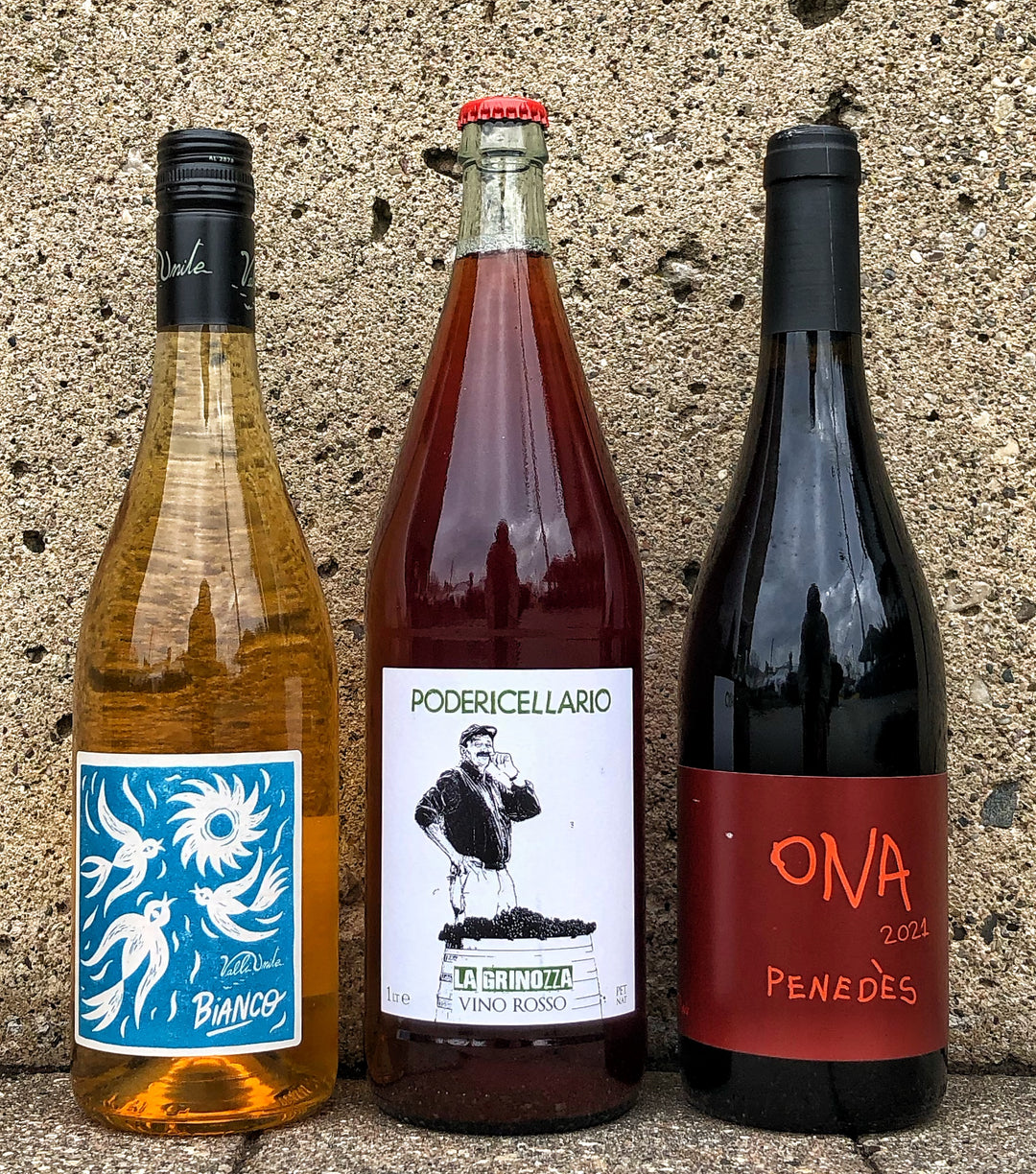 Oriol's Thanksgiving 3-Pack
---
Orange wine is consistently one of my favorite things to bring out at gatherings - people's eyes light up when they see that golden hue! But whereas some skin contact wines can be so tannic as to be unapproachable, Valli Unite Bianco Cortese NV (Piedmont, Italy) is the perfect light and breezy orange to get your stuffy uncle doing backflips! 20-year old vines, clay soil, and 3 days fermenting on skins give this one enough texture, complexity, and mineral panache to delight both on its own and alongside a wide range of food options.

With the tannin-averse now comfortably accommodated, the tannin-amenable can pop open a juicy and spritzy ruby-tinted liter bottle of Poderi Cellario 'La Grinozza' Vino Rosso Pet Nat NV (Piedmont, Italy), a pet-nat (that means natural AND bubbly!) made with 100% Grignolino. I get a smooth silty terroir with plenty of tart red apple skin tannins that let this wine resonate powerfully with medium-to-bold thanksgiving fare. 
The tannic train continues with Can Tutusaus 'Ona' Negre 2021 (Penedes, Spain) a characterful, biodynamic Marselan from Catalonia that shows ample structure and abundant dark red fruit. With a balanced acidity and silky but assertive tannins—tamed after a mere 15 minutes of air—this drinks almost like a Nebbiolo and will pair beautifully with heartier dishes, from the big bird (smoked turkey, anyone?) through the richest pies.
Do you offer home delivery?
Yes! If the address of the order is within a six mile radius of our store, we offer same day delivery Monday through Saturday for orders placed by 12pm.  Any orders placed after 12pm will be delivered the following day with the exception of Saturday afternoon orders which are delivered on Monday. 
We charge a $5 fee for orders that are within our delivery area and that meet a min $50 order before sales tax.  If your order is under $50 before sales tax, our delivery fee is $10. 

If you are outside of our delivery area but live in Michigan, please contact us as we may be able to deliver or ship for an extra charge.
Will you deliver to a business? 

We do deliver to businesses but we reserve the right to request a home address if necessary.
When can I pick-up my order?
Orders are typically packed within 30 minutes of when we receive them. Once you receive a text or email (check your spam box!) letting you know your order is ready, you may come and pick it up.  If you place an order within 30 minutes of our closing time and would like to pick-up before we close, please let us know via phone (734) 827-9463 or text 734-489-9444‬ and we will be sure to have it ready. Our store hours for pick-up are 9a-7p Monday through Friday, 8a-6p Saturday, and 12p-5p Sunday.
If I buy a case, is there a discount?
If your total before tax is $120 or more, you will be given an automatic 10% discount at checkout.  If you're ordering several cases, contact us and we can work out a way to give you a bigger discount.

How do I redeem an old everyday wines gift card?
If you received a gift card before December 2020, please 
email us
 and we can reissue you a gift card that you can use online or at the store.  If you received a gift card after December 1, 2020, you should have a code that you can use to redeem online or in the store.

Is it possible to send a physical gift card to my gift card recipient?
Yes! Call (
734-827-9463
), text (
734-489-9444
) or
email us
and provide the recipient's mailing address, any gift note you would like to include, and the electronic gift card code that was emailed or texted to you at the time of the purchase. 

What is your return and refund policy?
The State of Michigan does not allow us to take back unopened bottles of alcohol for credit or refund after purchase.  If an open bottle of wine is off or spoiled for some reason, please bring the bottle back (please don't pour out the wine!) and we can provide you with a refund or replace the bottle.