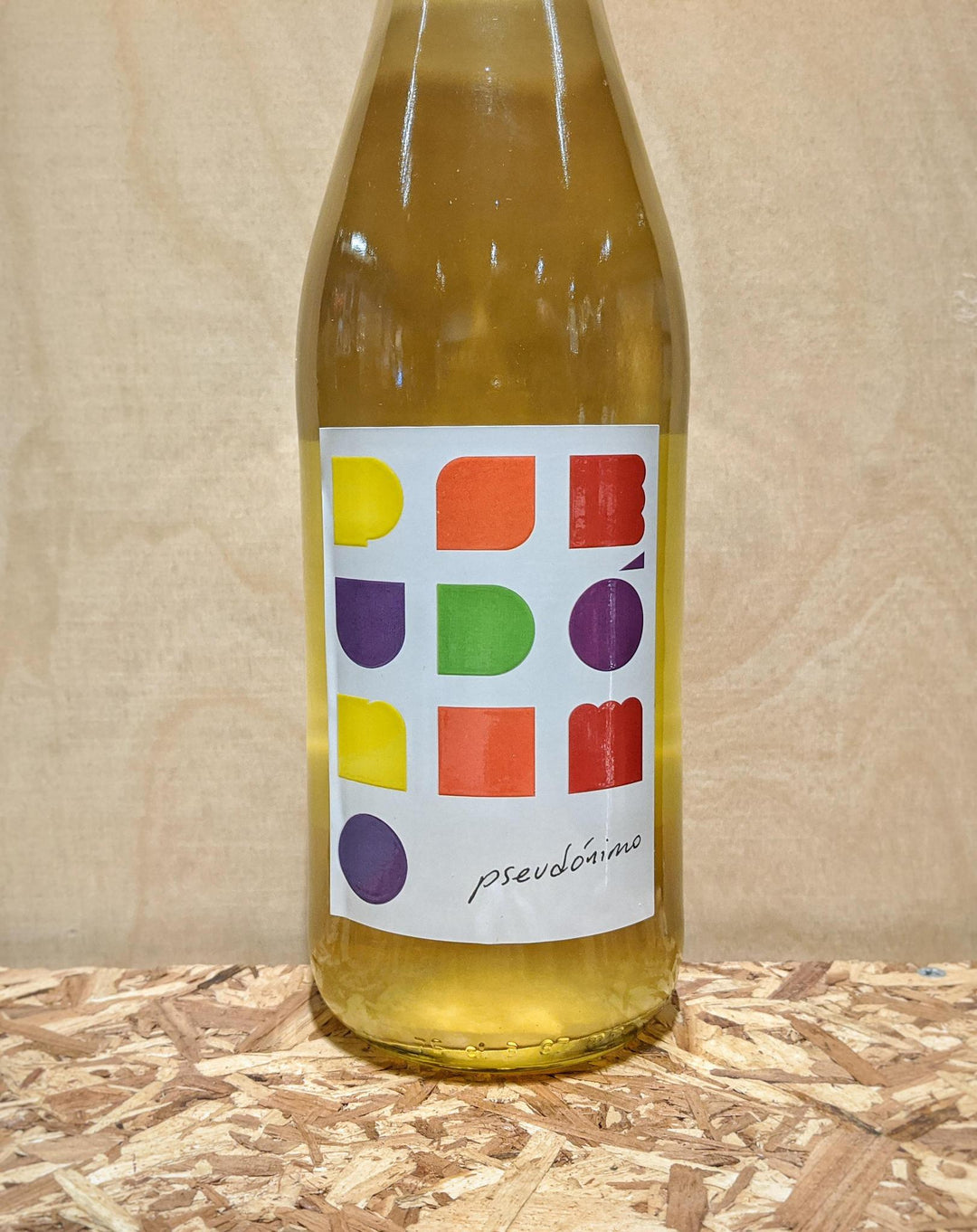 Casal de Ventoleza 'Pseudonimo' Pet Nat Minho, Portugal NV
---
From a third generation family estate in Mogege (about 40 miles north of Porto), t
his easy drinking and refreshing bubbly is a terrific way to introduce people to Pet-Nats at a great price.

In pét-nat production, the natural fermentation is interrupted and the wine is bottled and finishes fermentation in the bottle. In France, this is also called the "Méthode Ancestrale" of sparkling wine production. It differs from the traditional Champagne method where primary fermentation is not interrupted and finished wines
are bottled with a small amount of yeast and sugary liqueur. As time passes, the yeast eats the sugar in the liqueur and a second, in-bottle fermentation produces the trapped carbon dioxide that gives "Champagne Method" sparkling wines their bubbles.
Beyond creating the bubbles in a natural way, winemakers Fernando Moura and Pedro Campos are in the process of getting organic certification for their family estate. And, in the meantime, it is certified for "Integrated Production" which refers to a sustainable farming system that places emphasis on involving the entire vineyard as an ecosystem, the preservation and improvement of soil, and a diversified environment.  
We get juicy ripe pear, meyer lemons, a dash of herbs, a touch of sea salt salinity, and the perfect amount of acidity from this hand-harvested blend of 80% Loureiro and 20% Trejadura (indigenous Portuguese grapes).
Only 500 cases were made.
ABV: 11.5%
Food ideas: Smoke Trout (from Tracklements of course) with w/ lemon garlic chive pesto, pasta with roasted pears, feta cheese, and toasted pine nuts, Brie quesadilla with pear lemon ginger chutney, quinoa with carmelized rosemary tempeh, sauteed pears and toasted sesame seeds

Do you offer home delivery?
Yes! If the address of the order is within a six mile radius of our store, we offer same day delivery Monday through Saturday for orders placed by 12pm.  Any orders placed after 12pm will be delivered the following day with the exception of Saturday afternoon orders which are delivered on Monday. 
We charge a $5 fee for orders that are within our delivery area and that meet a min $50 order before sales tax.  If your order is under $50 before sales tax, our delivery fee is $10. 

If you are outside of our delivery area but live in Michigan, please contact us as we may be able to deliver or ship for an extra charge.
Will you deliver to a business? 

We do deliver to businesses but we reserve the right to request a home address if necessary.
When can I pick-up my order?
Orders are typically packed within 30 minutes of when we receive them. Once you receive a text or email (check your spam box!) letting you know your order is ready, you may come and pick it up.  If you place an order within 30 minutes of our closing time and would like to pick-up before we close, please let us know via phone (734) 827-9463 or text 734-489-9444‬ and we will be sure to have it ready. Our store hours for pick-up are 9a-7p Monday through Friday, 8a-6p Saturday, and 12p-5p Sunday.
If I buy a case, is there a discount?
If your total before tax is $120 or more, you will be given an automatic 10% discount at checkout.  If you're ordering several cases, contact us and we can work out a way to give you a bigger discount.

How do I redeem an old everyday wines gift card?
If you received a gift card before December 2020, please 
email us
 and we can reissue you a gift card that you can use online or at the store.  If you received a gift card after December 1, 2020, you should have a code that you can use to redeem online or in the store.

Is it possible to send a physical gift card to my gift card recipient?
Yes! Call (
734-827-9463
), text (
734-489-9444
) or
email us
and provide the recipient's mailing address, any gift note you would like to include, and the electronic gift card code that was emailed or texted to you at the time of the purchase. 

What is your return and refund policy?
The State of Michigan does not allow us to take back unopened bottles of alcohol for credit or refund after purchase.  If an open bottle of wine is off or spoiled for some reason, please bring the bottle back (please don't pour out the wine!) and we can provide you with a refund or replace the bottle.